TONIGHT is our housewarming get together and I. AM. SO. PUMPED.
So many of my favorite human beings will be under one roof, and my heart is singing. Okay, maybe that's Pandora playing in the background, but you get the idea.
A few of us in attendance tonight met at summer camp as counselors and I might already have plans of us bursting out in camp songs at random intervals. I mean, camp songs and campfire skits are fun for all ages, right??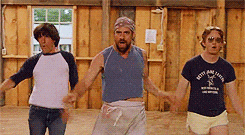 We're going to play some board games and catch up on all the latest gossip. Generally, just have a grand old time. Plus, we're serving brats and apple crisp and pumpkin beer to our guests, so.. you know.
That's pretty much all I've got to say for now since I'm in here cleaning up this little cottage like Snow White's small woodland creatures on steroids. Except for this. Jon Stewart learned about 'fangirling' this week on his show and it was incredible.
Like, his impression of fangirling was incredible but his girl crush,
Malala
, is THE. BOMB.
She's 16 and was attacked by The Taliban and is on a mission to educate women across the globe. You've probably heard of her already because she's quickly reaching rock star status for, like,
being a rock star.
So glad to have someone out there making a difference without twerking her way into our headlines.
#slightlyjudgemental #sorry #butseriously
Okay, kittens.
Over and out.
Speaking of Tweeter, don't make the mistake of buying its stock because... uhh, it's NOT
Twitter
as
some fools and their money
learned the hard way recently.
DEUCES.
xo
Sarah :: Your Plucky Picaroon