Good day to you, beautifuls! I am terrible about looking at labels on things that I wear. Like, legit terrible. I know what I like and what I think looks pretty and what's on the label is quite secondary to my fashion choices. [like the time I bought an awesome button-up blouse at Goodwill, wore it a time or two, decided to blog about it so finally checked the tag, only to discover it was actually a Ralph Lauren...]
Anyway, I'm sharing a few of my recent outfits today and what's on the label isn't nearly so important to me as how to wear it. Also, when in doubt, just assume everything I own is (a) from Goodwill, (b) from my Nana, or (c) stolen from my little sister. That pretty much covers all of my major fashion-acquisition outlets.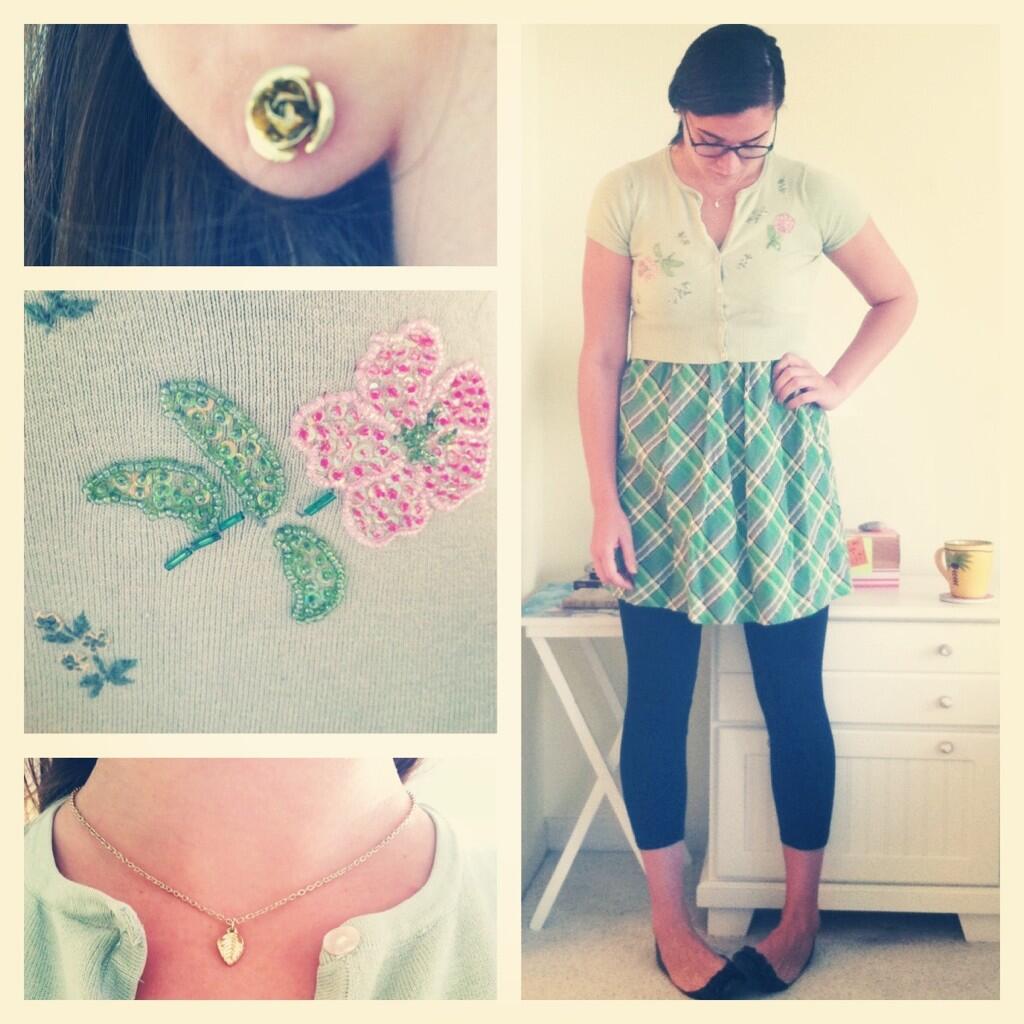 Today is Wear A Dress Wednesday with The Dress Dare! I "borrowed" this dress and little cardi from my little sister. The green and gold stripes actually make me think of Christmas, but the green sweater with little beaded pink flowers is most definitely Springy! Since it's chilly, I've been pairing Spring dresses with leggings and flats. Bare-legged-goose-pimples are cute on no one.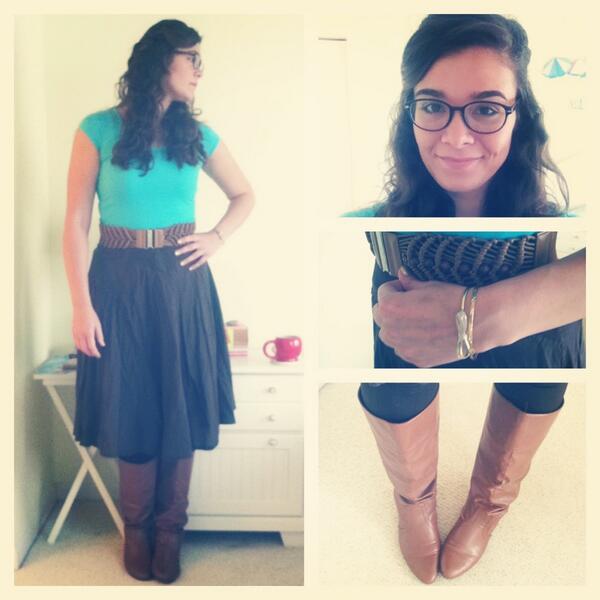 This is one of my favorite outfits.... and I always get compliments on it! The blue shirt is a cheapy OP from Walmart [love everything OP. #summer], the brown skirt I got in a clothing swap at work, the belt is off of some other dress that I [think I] bought at Deb. The boots I bought online for like $13. So, anyway. The office is chilly, and so are the mornings, so I thought I'd spice up the "cowgirl" look with some leggings! [i.e. it was co-o-o-ld. brrrr]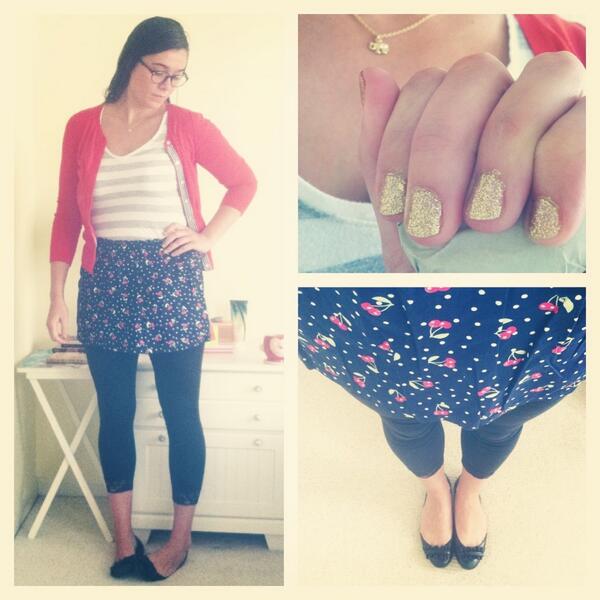 More Goodwill-y, OP-y goodness. This cardigan is my absolute favorite! It's off-red, almost orangey and has navy and white stripes down the buttons. OP shirt [probably purchased at the same time as the blue guy above, but it's been so long ago that I can't even remember] and Little Girls' Section skirt from Wallyword. I think these flats are from Target. I wear them all the stinking time [in case you haven't noticed]. I thought all of these patterns and colors were going to be a fashion crisis, but it all came together pretty nicely. I think the solid leggings and solid sweater made up for the mix-n-match patterns on the skirt and shirt.
That's all I've got time to share with you today! Like I said, I'm really really awful at knowing Who made What, but if you really really want to know, just shoot me a message and I'll check the tag just for you. ;)
Sarah :: Your Plucky Picaroon